Online Biochemistry Degree Programs
Search For Schools
*sponsored
Biochemistry sits at the intersection of biology and chemistry, applying the theories and methods of chemistry to phenomena in biology. Students who enroll in a biochemistry program can pursue several careers in several fields, including education, health, industry, and public service. Additionally, an undergraduate degree in biochemistry prepares them for research in graduate programs related to biochemistry, molecular biology, and biophysics, among others.
Those with a degree in biochemistry typically focus their research on concentrations such as membrane structure and function, protein biochemistry, molecular biology of gene regulation, DNA repair, and reproductive biology. Biochemists and biophysicists earn an average median salary of $102,270, and the field is projected to grow 15 percent from 2021 to 2031, which is faster than the average among all U.S. occupations (3 percent), according to the Bureau of Labor Statistics (BLS 2022). Additionally, those who obtain biochemistry degrees may find positions as analytical chemists, biotechnologists, clinical research associates, forensic scientists, and physician associates, among many other professions.
In the past, traditional, brick-and-mortar colleges were the only options for educating aspiring biochemists. These days, however, there's been a rise in online biochemistry degree programs from reputable institutions, particularly at the graduate level. These distance-based degrees offer relative flexibility with the time and place students can complete their coursework, research, and assignments. It's important to note that due to the essentially hands-on nature of scientific disciplines such as biochemistry, most of these online programs require in-person practicums or intensives completed either on campus or in approved facilities close to a student's home.
Read on to discover what to expect from an online biochemistry degree, including the coursework, tuition, and three outstanding professors in this in-demand field.
Admissions Requirements for Biochemistry Programs
While every biochemistry program has different admissions requirements, many schools have overlapping policies.
For undergraduate admissions, high school graduates with no previous college experience will typically need to submit their official transcript, show proof of completing certain courses, and rank in a certain percentage of their graduating class. Those who have attended college elsewhere will need to obtain and submit an official copy of the transcript from each school. Most schools also require a minimum grade point average in previous college coursework.
For master's degree programs, a common requirement is the completion of an undergraduate degree as well as several years of work experience in a biological field. Students will also likely need to submit their GRE scores and several letters of recommendation.
Online Undergraduate Programs in Biochemistry
Arizona State University
Johns Hopkins University (AAP)
University of West Alabama (Campus)
Because of the intense research focus of biochemistry, most people entering the field have a graduate degree or more. However, everyone needs to earn their bachelor's degree before registering for a graduate program. Below are three schools that offer undergraduate degrees in biochemistry or related fields exclusively online.
Arizona State University's bachelor of science program in biochemistry includes both online and in-person lab courses. Students in this program will be required to complete biochemistry and organic chemistry labs in person, while other lab requirements, such as physics and general chemistry, can be completed through online labs and lab kits.
To earn this degree, students must complete 120 credits. Each online course lasts 7.5 weeks. Students will study the chemical processes of all living organisms to prepare them for further study in graduate school or dental, medical, or pharmacy school. While transfer credits are accepted, at least 30 of the 120 credits must come from Arizona State University.
Examples of coursework include general chemistry; physical chemistry with a biological focus; general biochemistry; biophysical chemistry; general organic chemistry; analytical biochemistry laboratory; and general organic chemistry laboratory, among others.
Some of the highest-paid careers for graduates of this program include pharmacist, dentist, medical doctor, medical lab technician, medical scientist, optometrist, physician assistant, biochemist, and veterinarian.
Location: Tempe, AZ
Accreditation: Higher Learning Commission (HLC)
Expected Time to Completion: 24 to 48 months, depending on transfer credits
Estimated Tuition: $654 per credit
Logan University (Related Program)
Logan University's online bachelor of science program in human biology prepares students for a rewarding career in health sciences. They will be prepared to enter a wide range of graduate programs such as medicine, podiatry, osteopathy, pharmacy, chiropractic, optometry, or dentistry.
This 122-credit program includes courses such as biochemistry; general biology; organic chemistry; physics; anatomy & physiology; introduction to public health; microbiology; biostatistics; genetics; and immunology.
Graduates of this program will be prepared to apply scientific principles for solving problems, making evidence-based decisions, communicating biological concepts, and more.
Location: Chesterfield, MO
Accreditation: Higher Learning Commission (HLC)
Expected Time to Completion: 36 months or less
Estimated Tuition: $375 per credit
University of Florida (Related Program)
The University of Florida offers an online bachelor of arts program in biology providing working professionals with a world of convenience. This program will prepare students for a career in several allied health professions and interdisciplinary fields such as bioscience management, science journalism, biotechnology or environmental law, and more. This program is not suitable for students who wish to attend medical, veterinary, or dental schools.
The program's 120-credit curriculum includes topics such as functional vertebrate anatomy; plant ecology; biological research; and invertebrate biodiversity. The program opens up opportunities for graduates in bioinformatics, pharmaceuticals, conservation, food safety, and more. They will be ready to pursue roles such as biometricians, epidemiologists, conservation biologists, marine mammal trainers, pharmaceutical researchers, food safety experts, med/vet technicians, and pharmacist assistants.
Location: Gainesville, FL
Accreditation: Southern Association of Colleges and Schools Commission on Colleges (SACSCOC)
Expected Time to Completion: 36 to 48 months
Estimated Tuition: Florida residents ($129.18 per credit); non-Florida residents ($552.62 per credit)
Online Graduate Programs in Biochemistry
For those who have begun their higher education in biochemistry, a graduate degree is helpful, if not necessary, for many jobs in this field. Below are two featured master's programs in biochemistry or related fields.
University of North Carolina, Wilmington
This master's degree program in chemistry allows students with an undergraduate foundation in chemistry to increase their knowledge in chemistry through coursework, in-depth study, and independent research. However, about one-third of the program's full-time graduate students do not have traditional undergraduate degrees in chemistry.
The program can be completed with 36 credits, and at least 21 of them must be in chemistry. Additionally, nine credits must come from the student's area of specialization either in business, clinical research, or education. The final degree requirements include six credits from any graduate courses and a comprehensive research project approved by the student's advisory committee.
Examples of chemistry courses include mass spectrometry; organic chemistry; physical chemistry; analytical chemistry; biochemistry; medicinal chemistry; industrial and polymer chemistry; and molecular modeling. Business course options for this degree include accounting; information analysis; economics; corporate finance; and marketing. Students in the program also have the opportunity to teach undergraduate labs and mentor students in research. There is no on-campus requirement to complete the program.
Location: Wilmington, NC
Accreditation: Southern Association of Colleges and Schools Commission on Colleges (SACSCOC)
Expected Time to Completion: 24 months
Estimated Tuition: Residents of NC ($276.62 per credit); non-residents of NC ($1,119.73 per credit)
University of Saint Joseph's 30-credit master of science program in biochemistry provides students with a thesis and non-thesis option. Some of the required courses include biochemistry; chemical thermodynamics; intermediate organic chemistry; and mendelian and population genetics, but students can also broaden their knowledge of chemistry through elective courses such as toxicology; endocrinology; immunology; cell signaling; proteomics; pharmacogenomics; and heterocyclic chemistry, among others.
To enroll in the program, students need a bachelor's degree in biochemistry or a related field from an accredited school, completion of several chemistry prerequisite classes, and two letters of recommendation. If approved to submit a thesis, it counts as three of the 30 credits. Non-thesis students must pass a comprehensive exam after completing 24 or more credits. The program is designed for working professionals and offers flexible options for all online courses.
Location: West Hartford, CT
Accreditation: New England Commission of Higher Education
Expected Time to Completion: 24 months
Estimated Tuition: $895 per credit
Ohio University (Related)
Ohio University's Chemistry & Biochemistry Department offers an online master of science program in chemistry that can be completed in just three semesters. Designed for science professionals and teachers, this online program does not require a thesis nor requires GRE scores for admission. Students in this program will acquire knowledge and skills in various biochemical and chemical topics.
The program comprises 30 credits and includes courses such as basic biochemistry; modern inorganic chemistry; advanced analytical chemistry; physical chemistry; advanced organic synthesis: reactions and mechanisms; and science research literature and writing. No thesis is required, but students will need to write a research paper on a selected chemistry topic under the direction of their adviser.
Location: Athens, OH
Accreditation: Higher Learning Commission (HLC)
Expected Time to Completion: Three semesters
Estimated Tuition: Ohio Resident ($508 per credit); Out-of-State ($527 per credit)
Other Online Programs in Biochemistry
Traditional undergraduate and graduate degree programs are not of interest to everyone. A refresher course might be a good option for those who are unsure whether biochemistry is the right track for them and those who have not worked in this field for several years. A short-term certification program might be more interesting to professionals who simply wish to extend their knowledge into a new specialization in biochemistry. Below are a few options for other online biochemistry programs.
Harvard University offers a free, non-credentialed course in principles of biochemistry that introduces students to the biochemical approach to cellular functioning and the structure of macromolecules. This course is offered in collaboration with edX-an American massive open online course provider created by Harvard and MIT.
Some of the studied topics include manipulating pathways and enzymes with drugs or mutations, protein functions within enzyme kinetics, and major metabolic pathway characterization as they connect with highly regulated networks. Students explore topics that range from simple red blood cells to complex liver and muscle tissues. The final goal of the class is to better understand the link between metabolic disturbances and human diseases.
Location: Cambridge, MA
Accreditation: New England Commission of Higher Education
Expected Time to Completion: 15 weeks (four to six hours per week)
Estimated Tuition: Free; a certificate of verification is available for $249
The University of Arizona offers two biochemistry-related 3-credit courses preparing students for the MCAT and medical school or simply allowing them to expand their biochemistry knowledge. Both these courses are offered year-round as stand-alone courses during the Fall, Winter, Spring, and Summer terms.
The first course, the foundations of biochemistry, covers bioenergetics, membranes and water, enzyme mechanisms, fundamental energy conversion pathways, methods in protein biochemistry, protein-mediated cell signaling, and protein structure and function.
The second course, metabolic biochemistry, covers the biochemistry of photosynthesis, DNA and RNA metabolism, and the metabolism of amino acids, carbohydrates, lipids, and nucleotides. Students may begin the program with either course as one is not a prerequisite for the other.
Location: Tucson, AZ
Accreditation: Higher Learning Commission (HLC)
Expected Time to Completion: Fall (15 weeks); Winter (3 weeks); Spring (15 weeks); and Summer (5 weeks)
Estimated Tuition: $650 to $1,332 per credit
University of Miami Health System
The Department of Biochemistry and Molecular Biology at the University of Miami has created an online executive doctorate program for current scientists who want to remain employed while completing it. The degree is also appropriate for non-academic scientists in biochemistry, biotechnology, molecular biology, medicine, or nanotechnology.
Students can benefit from distance learning platforms and streamed lectures, but they will also perform research at the institution where they are employed. To complete the doctorate program, students must take the required courses, perform dissertation research, pass a qualifying exam, visit the campus annually to present their research as a poster, and pass a dissertation examination.
Location: Miami, FL
Accreditation: Southern Association of Colleges and Schools Commission on Colleges (SACSCOC)
Expected Time to Completion: 12 to 24 months
Estimated Tuition: Contact the university for a customized assessment
The online 4-credit medical biochemistry course at the University of New England is a good choice for students applying for admission to a health program who have not yet completed a biochemistry prerequisite. Some of the health fields that students have entered when completing this course include dental medicine, medicine, nursing, physical therapy, physician assistant, and veterinary medicine.
The four-credit-hour course is completely online and teaches the foundations of clinical medical sciences so that students can learn the core concepts of biochemistry that apply to human health and disease. The course is self-paced, allowing full flexibility for students.
Location: Portland, ME
Accreditation: New England Commission of Higher Education
Expected Time to Completion: 16 weeks
Estimated Tuition: $410 per credit hour
Accreditation and State Authorization of Online Degrees
When a school is accredited, it means that an outside agency has reviewed the courses, admission requirements, professors, programs, and all other aspects of the school or program and found them to be of quality. The accrediting body typically consists of college professors and others in education without a tie to the school receiving the accreditation.
Although accreditation is voluntary, most employers and colleges do not accept coursework from a student who attended a non-accredited institution. It is the student's duty to ensure the value of his or her educational dollar by enrolling in accredited universities. Schools can apply for regional accreditation, program accreditation, or both.
The following are some of the major regional accrediting boards:
Higher Learning Commission (HLC)
New England Association of Schools and Colleges Commission (NEASC)
Southern Association of Colleges and Schools Commission on Colleges (SACSCOC)
The American Society for Biochemistry and Molecular Biology (ASBMB) is the major accrediting board specifically for biochemistry programs.
Finally, the Higher Education Act introduced the concept of "state authorization" many decades ago. It means that a school needs to earn authorization in the state where it is located to receive federal student aid under Title IV. Schools also need to apply for authorization in each state where it wishes to grant degrees. This accounts for the difference in tuition for residents and non-residents and why students residing in some states may not be able to enroll at the online college of their choice. To ensure program eligibility, students must check out state authorization pages (e.g., University of Miami) or contact admissions officials.
Professors to Know at Universities with Online Biochemistry Programs
Dr. Gaudet teaches molecular and cellular biology at Harvard University. She obtained her doctorate in molecular biophysics and biochemistry from Yale University and her bachelor's degree in biochemistry from the Université de Montréal in Canada. She also completed postdoctoral work at Harvard University, where she has worked as a molecular and cellular biology professor since 2002.
Dr. Gaudet's primary research area is the structural biology of membrane proteins. While conducting her research, she uses biochemistry and X-ray crystallography to glean critical insights into the molecular mechanisms of signaling and transporting proteins. These are essential in hearing, immunity, neuronal development, and pain reception.
Dr. Kurian is a lecturer at the University of North Carolina Wilmington in the Department of Chemistry and Biochemistry. He earned his doctorate from the University of Maine, his master's from Mahatma Gandhi University in India, and his bachelor's degree from Calicut University in India. He came on board in August 2017 after teaching at Carroll College in Montana and St. Cloud State University in Minnesota.
Dr. Kurian completed a postdoctoral research position at the University of Massachusetts Amherst, where he worked on catalytic mechanisms in NiSOD and Ni trafficking in E. Coli and Helicobacter pylori.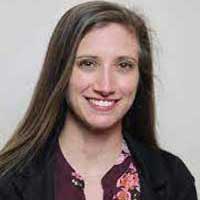 Sarah Kathryn is an associate professor of chemistry and the chemistry and biochemistry graduate program director at the University of Saint Joseph where she teaches or has taught courses such as medicinal chemistry; organic chemistry; advanced organic synthesis; biochemistry; organic spectroscopy; and intermediate organic chemistry.
Dr. Zingales' research interests include medicinal chemistry, synthetic organic chemistry, molecular modeling, biochemistry, chemical education, and brewing science. Her research has been published in prominent journals such as Future Medicinal Chemistry, Organic & Biomolecular Chemistry, and Chemistry–A European Journal. She completed her PhD in medicinal chemistry and MS in organic chemistry from Georgia State University. She has also earned a BS in chemistry at Auburn University.